Lady Gaga wears a trash bag dress
Source: Daily Mail
We all know she wore a meat dress. But maybe she needed someplace to dispose of the meat dress later, after, you know, it passed its prime. In September 2015, during New York Fashion Week, Lady's Gaga strutted down the streets of New York City in a trash bag mini-dress cinched with a braided belt, and paired with distressed fishnets ripped from top to bottom. Gaga's destination? The opening of the "NicoPanda" clothing line by designer Nicola Formichetti, who designed Gaga's garbage bag dress, and also created Gaga's infamous "meat dress" for the 2010 VMAs. Does this mean that Lady Gaga is "fashion road kill" (as Carrie Bradshaw would say) – or is it simply what happens when clothing "meats" recycling?
Ke$ha rocks a garbage bag dress at the VMAs
Source: JustJared
Ke$ha, the "Tik Tok" singer, wore a garbage bag minidress to the 2010 VMAs. Ke$ha has described her style as "a celebration of being broke," which sounds to us like an anthem proudly embracing inner "trashiness." Considering that the stars typically plan their award-night looks very carefully and collaborate with top-tier designers, the fact that Ke$ha decided to commit to a garbage bag as her statement look for the evening leaves us greatly impressed. The girl has got guts… looks… and lots of low-density polyethylene! As she herself might rhyme: "I'm talkin' pedicure on our toes, toes / Garbage bag for our clothes, clothes." Even more illuminating, Ke$ha has shared that she got the garbage bags "at Home Depot and I put it together." Wow, girl!
Kim Kardashian "breaks the internet" in a dress that looks like a trash bag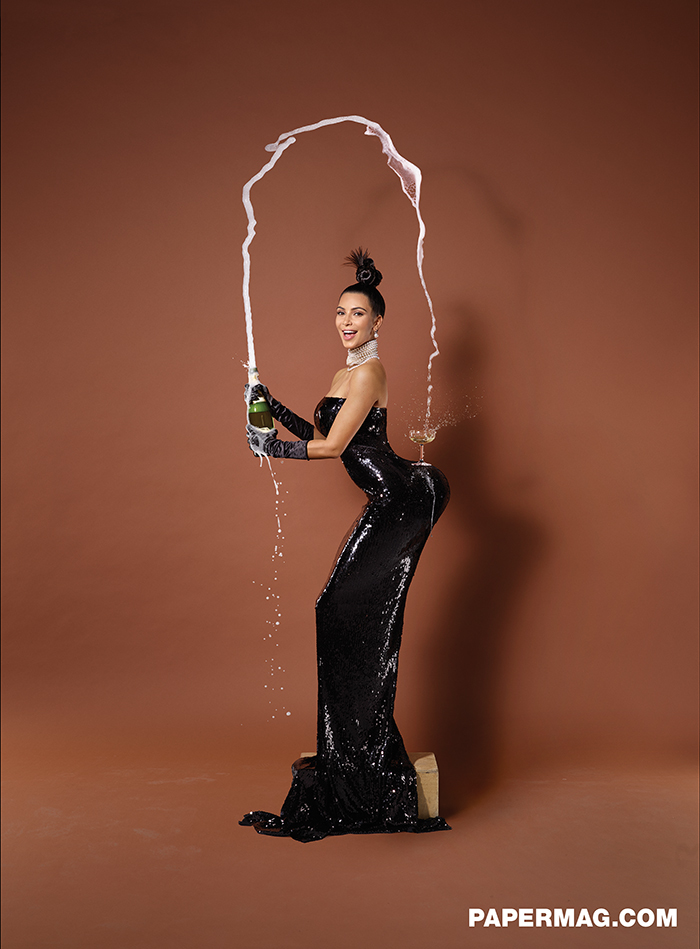 Source: Paper Mag
OK, it might not really be a trash bag, but everyone's favorite provocateur seemed inspired by "sanitation-and-disposal culture" to create this unstoppable meme. In November 2014, an NYC magazine – ironically named "Paper," not "Plastic" – featured reality princess and fame glutton Kim Kardashian sheathed in a shiny, black, body-hugging, floor-length, frothy frock, adorned with sparkling black elbow gloves. I have no actual, factual information about this dress; however, the evidence of my senses informs me that it must be a garbage bag! I have attempted to research the dress's stats, name brand, or designer, but unfortunately I failed to locate any information about it at all. That's why I suspect there is no designer – and that the iconic dress might in fact consist of garbage bags, artfully patched-together by "Paper" pushers. Judging by the numerous celebrity garbage-bag dress parodies that cover launched – including Nick Boshier's and Ajay Rochester's photo shoots – plus countless re-enactments and Halloween costumes modelled by real people, everyone else seems to think so too.
Kris Jenner also wears a garbage bag
Source: In Touch Weekly
Like mother, like daughter. Must they always compete? In July 2014, Kris Jenner stepped out on the town in a shirt that resembled a garbage bag. (In reality, it's probably ruffled vinyl with a lopsided bow. But it certainly looks like a bin liner with a drawstring, doesn't it?) Who wore the look better? Kris or Kim? Leave your opinion in the comments.
Lanvin brings "trash bag bags" to the runway
Source: Daily Mail
Talk about the high-low fashion divide. In September 2013, Lanvin brought its spring fashion line to the runway (designed by Alber Elbaz). This collection featured various shiny sacks that resemble miniature garbage bags. (Yay, homeless Santa's coming early this year!) Style critic Jo-Ann Furniss commented on a "play on the idea of 'Eurotrash' in the show." Except this is an exquisitely wealthy strain of Eurotrash, since the sacks retail at $1,500-plus. Well, you know what they say: one woman's trash is another woman's treasure… Lanvin's high-fashion trash bags emphasize a trend we can observe consistently through this blog post: the rise of the garbage bag in haute couture. The modern interplay between high-fashion and low-fashion, the flux between runway looks and street clothes, are bringing trash bags into vogue right now, and making this common utilitarian resource finally wearable (and not just by your corner homeless lady). Hooray for trash bags!
The trash bag has finally arrived! We at PlasticPlace, of course, have recognized its hotness (and coolness) for ages. But now, popular culture is finally waking up and realizing that trash bags are great: durable enough to double as fabric, cute enough to pass for pleather, and as dazzlingly versatile as they are readily-available. Lately, trash bags have been winning starring roles, from catwalks to sidewalks, from ceremonies to after-parties, from N.Y.C. to L.A. So, without further ado, let's count down the five "trashiest" moments in high-fashion history.  
Share on: